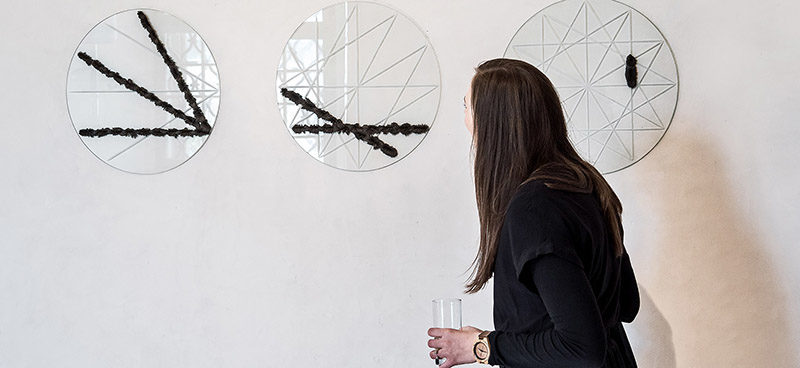 The Large Crack – Joint Exhibition with Gerrit Rietveld Academie in Kutná Hora
25. September 2019
The Large Crack, an international exhibition of works by students and their teachers, is based on the conviction that, just as Marcel Duchamp's readymades heralded the development of contemporary art, his glass work The Large Glass is a key work in the area of artistic glass. If the iconic The Large Glass is the beginning, then it must presage conceptual works made with a thoroughness of ideas that leave room for chance, involving infinity or openness as well as eroticism and desire. Working with various media and the material of glass, the items exhibited in GASK's Projectroom follow in the footsteps of not only The Large Glass but also glassmaking tradition, although – as is typical for post-conceptual art and its democratic media – they subject both to critique. Students and graduates of both studios test the limits and possibilities of glass, using it as a material for exploring current issues in contemporary art, which they express through objects, drawings, situations, new media, and performance art.
Studio of Glass Design, Faculty of Multimedia Communications, Tomas Bata University in Zlín, under the direction of Petr Stanický
The Studio of Glass Design focuses on students' conscious artistic expression on the multidisciplinary level. Instead of focusing on Bohemian glass craftsmanship, it tries to develop a distinctive post-conceptual position that will be at the center of the creative process. The resulting products and works of art respond to the latest trends in visual art and design, with a focus on specific social and cultural phenomena.
The Large Glass Department, Gerrit Rietveld Academie under the direction of Jens Pfeifer
The Large Glass Department emphasizes an open but critical dialogue about the material of glass, in which the diverging positions of fine and applied arts are reflected. The main focus is students' individual artistic positions and an understanding of the practical and theoretical expertise required of an artist. Students find themselves working in the tradition of fine art rather than studio glass. The department is a place of academic progression and artistic exploration rather than technical education. Technique is a tool, not a goal. We encourage our students to be explorative and innovative and to challenge the material by moving beyond the borders of this specific field. Besides sculpture and drawing, frequent forms of expression also include (combinations with) performance, video and installation work.
The exhibition is open from 22 September till 1 December 2019 at the GASK Gallety in Kutná Hora.
Exhibiting artists: Johan Adam, Atousa Bandeh, Kateřina Bušová, Linda da Costa, Zdeňka Fusková, Yuna Choi, Samantha Chua, Renato Japi, Nikola Kovalíková, Michaela Kramulová, Tomáš Krejčí, Kristina Maňáková, Aleksi Marjamaa, Emilia Omilianowicz, Jens Pfeifer, Maria Sixtová, Michaela Spružinová, Petr Stanický, Erno Takala, Henna Vihantavaara, Robert Vlasák, Eva van der Zand
Guided tour with artists and curators: Saturday 19 October at 3pm
Guided tour (not only) for senior citizens: Thursday 31 October at 3pm