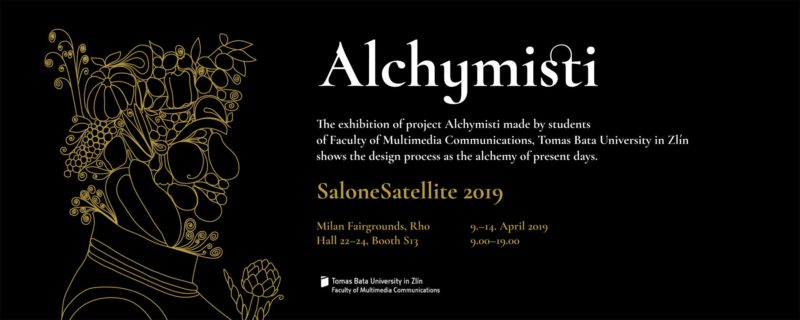 Students to present Alchemists at SaloneSatellite in Milan
Students of six studios of the Faculty of Multimedia Communications will present their work within the framework of a joint Alchemists theme at this year's SaloneSatellite, held at the Salone Internazionale del Mobile 2019 in Milan, Italy.
The project Alchymisti (Alchemists) is loosely inspired by the historical period of the Roman Emperor Rudolf II who ruled in Prague between the years 1576–1611. During those days Prague became a European centre of education. Back then, science blended naturally with religion and the arts. The alchemists who resided at the Emperor's court would be working on a variety of tasks such as discoveries of the secrets of gold transmutation from other metals, searching for human immortality, and other mysteries. Metaphorically speaking, we can refer to a process of alchemy also when talking about a design and realisation of any art piece, applied or freeform, as long as we keep the required aesthetic, functional and other criteria.
Those students who stay up until early morning hours speculating on their sketches resemble their alchemist predecessors not only in their eccentric looks but also by their manner of speech or diction which may sound incomprehensive to general public. Designers as much as the alchemists educate themselves in many areas which may stretch seemingly too far apart from their occupations.
It was not our aim to simulate or outdo old processes but to transform them into the present days. The pivotal element of the project is the collection of furniture made of bent tubes. The collection is completed with large format photos representing experimental investigation and spatial quilling compositions which were inspired by Giuseppe Arcimboldi's artwork, well known for his fruit portraits. This installation is also composed of a shoe design collection, a crystal glass chandelier, a set of hand-blown carafes and several more interior pieces.
A golden tube with rainbow reflections, a common element in the student's designs, symbolizes an alchemist's exploration when trying to reach a defined goal. The next common elements for the presented designs are Malai, a biocomposite sheet material of natural base, and Czech crystal glass. Czech crystal glass during its peak days gained more fame than Venetian glass. By a combination of these two materials we could create a lavish but coherent impression, similar to the one of a mannerist interior of the late 16th century. Moreover, we did not have to use any unwanted pseudo-historical elements.
Head of project: Martin Surman
Curator: Ondřej Puchta
Coordinator: Kateřina Novotná
Authors of exhibited pieces:
Industrial Design
Head of studio: doc. MgA. Martin Surman, ArtD.
Students: Rebeka Mališová, Jakub Buchta, Julia Polok, Denis Sedlák, Tomáš Hořín, Kateřina Novotná
Graphic Design
Head of studio: dr ak. soch. Rostislav Illík
Students: Michaela Kristlová, Barbora Klaučová, Libor Stuchlík, Jana Náhliková, Zuzana Čičová, Adéla Hrazdílková, Natálie Štěpániková
Advertising Photography
Head of studio: doc. MgA. Jaroslav Prokop
Students: Barbora Zaťková, Tomáš Heřmánek, Lenka Kleinová
Glass Design
Head of studio: doc. MgA. Petr Stanický, M.F.A.
Students: Pavla Sedláková, Markéta Ramachová
Shoe Design
Head of studio: Mgr. art. Ivana Kaňovská, ArtD.
Student: Oldřich Vojta
Product Design
doc. M.A. Vladimír Kovařík
Student: Václav Koňařík
The Alchymisti exhibition will be open between April 9 and April 14 from 9am till 7pm at the Rho Exhibition Centre in Milan, Italy, Hall 22/24, Stand S13.