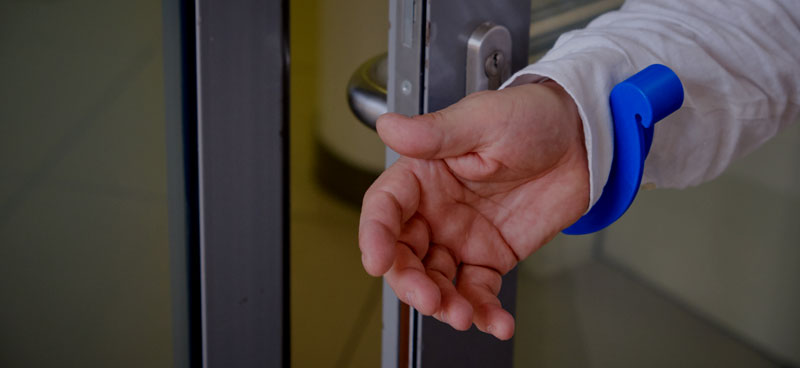 3D Printing Fights COVID-19
15. April 2020
Designers from the Faculty of Multimedia Communications have designed a simple gadget to reduce the risk of transmitting the COVID-19 infection.
Our faculty also tries to offer solutions to the current situation. A team led by Associate professor Vladimír Kovařík, head of the Product Design studio, focused on the issue of entry into buildings, where the presence of a large number of people significantly increases the risk of transmission of contamination when hands get in contact with the door handlebars.
The result is a simple plastic extension called the Namadlo ("tie-to-bar"), which can be easily attached to the door handlebar using electric cable ties. People entering doors can open them with their forearm instead of using their fingers or palms.
Thanks to the use of 3D printing, this small but useful gadget can be immediately produced and distributed wherever it is needed, as it is already the case with protective shields and respirators developed in the same way at Czech universities.
If you have access to a 3D printer please download data for 3D printing and help to share this protective tool. The instuctional video shows how to fix the tool to the handlebar. Available is also a PDF with instructional graphics which you can print and attach to the door.
Downloads: