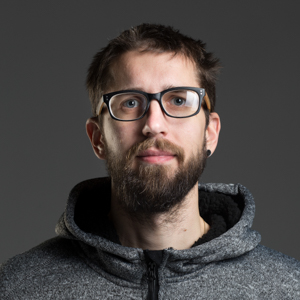 Associate Professor
doc. MgA. Libor Nemeškal, Ph.D.
Audiovisual Arts Studio
E-mail:
nemeskal@utb.cz
Mobile: +420 733 500 674
TEL: +420 576 034 302
Office:
U44/119
Author identifiers
Libor Nemeškal is a Czech film producer, editor and lecturer. Since 2003, he has participated in the production of more than one hundred audiovisual projects of different styles and genres. Many of them have been awarded or selected for international festivals (like IFF Cannes, IAFF Annecy etc.). Nowadays, Libor works as an editor and creative producer in studio Kouzelná and teaches at Tomas Bata Univerzity in Zlín. Libor Nemeškal is also a Czech ambassador of the European Animation Awards, a co-founder of the Czech animation Council (RAF), member of film committee within the Czech Registry of Artistic Records (RUV) and active member of several professional associations (CEEA, AFS, ASAF, CILECT…).
---
Teaching
Consulting hours
Wednesday 8am - 9am
---
Curriculum vitae
Education
2018: Multimedia and Design, Tomas Bata University in Zlín, Faculty of Multimedia Communications, Assoc. Prof.
2015-2016: Film Editing, Dodge College of Film an Media, Chapman University, postdoctoral scholar
2011-2015: Multimedia and Design, Tomas Bata University in Zlín, Faculty of Multimedia Communications, Ph.D.
2009-2011: Film Editing, Tomas Bata University in Zlín, Faculty of Multimedia Communications, MgA.
2008-2011: Film Studies, Charles University in Prague, Faculty of Arts, master programme
2004-2008: Film History and Aesthetics, Charles University in Prague, Faculty of Arts, Bc.
1999-2003: Grammar School in Kolín, Grammar School of E. Beneš, Kladno
Internships and study stays
2019: CILECT Congress 2019, Moscow, Russia
2019: Annecy IAFF, Annecy, France, presentation at the MIFA market
2019: 3iS, Bordeaux, France, Erasmus+ Teaching Mobility
2018: European Animation Awards 2018, Lille, France, EAA ambassador
2018: CILECT Congress 2018, Mumbai, India
2018: Annecy IAFF, Annecy, France, presentation at the MIFA market
2018: Lithuanian Academy of Music and Theatre, Vilnius, Lithuania, Erasmus+ Teaching Mobility
2017: European Animation Awards 2017, Lille, France, EAA ambassador
2017: CEE Animation Workshop 2017, Ljubljana, Slovenia
2017: CILECT Congress 2017, Zurich, Switzerland
2017: NAB 2017, Las Vegas, USA,  "Young Professionals" participant
2016: CILECT Congress 2016, Brisbane, Australia, "Ethics/Aesthetics" congress participant
2016: Tokyo, Japan, "Euro-Anime" collaborating project
2016: Volda University College, Volda, Norway, Erasmus+ Teaching Mobility
2015-2016: Chapman University, Dodge College of Film and Media Arts, USA, adjunct faculty
2015: Seoul, South Korea, Bare Bear Studio, business trip
2015: ISFF Clermont-Ferrand 2015, Clermont-Ferrand, France, "UTB Shorts 2015" research project
2014: ISFF Clermont-Ferrand 2014, Clermont-Ferrand, France, "UTB Shorts 2014" research project
2014: Reykjavik, Iceland, "UTB Shorts 2014" research project
2014: CILECT Congress 2014, USA, Orange County, "Previsualization" research project
2013: Spinnerei Herbstrundgang 2013, Leipzig, Germany
2013: Volda University College, Volda, Norway, Erasmus Teaching Mobility
2013: Áčko 2013, Bratislava, Slovakia, master class
2013: IFF Cannes 2013, Cannes, France, "UTB Shorts 2013" research project
2013: British Film Institute, London, UK, "UTB Shorts 2013" research project
2013: New York Film Festival, New York, USA, "UTB Shorts 2013" research project
2012: Estonian Academy of Arts, Tallinn, Estonia, Erasmus IP "What's Up After UNI?"
2012: IFF Cannes 2012, Cannes, France, "UTB Shorts 2012" research project
2011: Akadémia umení v Banskej Bystrici, Slovakia, Erasmus IP
2011: Edwards Language School, London, UK, study stay
1996-1997: USA, Hershey, study stay
Process of employment
2015-present: Kouzelná animace, film editor, creative producer
2011-present: Tomas Bata University in Zlín, Faculty of Multimedia Communications, senior lecturer
2003-present: freelance film editor
2015-2016: Chapman University, Dodge College of Film and Media Arts, adjunct faculty
2015-2016: Haimes Films, concept editor
2015: Strongman Production, postproduction assistant
2013-2016: Bare Bear Studio, film editor, producer
2011-2015: UTB Shorts, founder, executive director
2012-2013: InTwo Studio, film editor, producer
2010-2011: Tomas Bata University in Zlín, Faculty of Multimedia Communications, adjunct faculty
2008-2010: IFSF Zlatý voči, executive director
2009: Summer Film School Uherské Hradiště, editor
2006-2009: MovieWorld s.r.o., sales agent
2006-2008: IFSF Zlatý voči, artistic director
2005-2006: PZ Media, cinematographer, film editor
Membership of expert organizations
2017-present: European Animation Awards (EAA), Czech ambassador
2017-present: Avid Editors Association (ACA), member
2016-present: Association of Czech Animation (ASAF), member
2015-present: Czech Film and TV Editors Association, member
2014-present: Television Think Tank (TTT), member
2013-present: The International Association of Film and Television Schools (CILECT), university delegate
2013-2016: European Film Editors Society, member
2011-2012: Czech Society for Film Studies, member
2002-2006: ČKK Prague, member
Membership of bodies
2019-present: CEE Animation (CEEA), member of council
2018-present: Tomas Bata University in Zlín, member of senate
2017-present: Czech Animation Council (RAF), member of board
2017-present: Tomas Bata University in Zlín, Faculty of Multimedia Communications, member of senate
2012-present: Registry of Artistic Records, Film Commitee, member of board
2013-2014: Tomas Bata University in Zlín, Faculty of Multimedia Communications, vice-dean for creative activities
2011-2013: Tomas Bata University in Zlín, Faculty of Multimedia Communications, head of the Department of Animation and Audiovisual Arts
---
Creative activities
Publications
Project outputs